This Father's Day, spend some quality time with your dad and surprise him with a sweet treat!
Wondering how to give your dad a super cool Father's Day surprise? It's time to ditch the clichéd gifts and pamper the superhero, who has always stood by your side. In today's times, as families don't get much quality time to spend together, these opportunities are perfect to share the joy.
ALSO READ | Happy Fathers Day wishes and messages for 2018: Best wishes, SMS, Facebook messages and WhatsApp status for your loved ones
Father's Day is celebrated every year on third Sunday of June. This year, it falls on June 17.  It was started by an American woman, who was raised by a widower. Sonora Smart Dodd wanted to pay tribute to her father, who raised her and five brothers alone after her mother died when she was 16.
This Sunday, cherish all the lovely memories and cook something special for him or along with him. Here are some recipes that you can try.
Pineapple Mousse
Ingredients
500g — Pineapple (chopped)
½ cup — Cream
¾ cup — Milk chocolate
1¼ cup — Heavy Cream
Method 
* Grind the pineapple tidbits till crushed completely. Set aside.
* In a bowl, add cream and milk chocolate and microwave for 30 seconds. Whisk till smooth.
* In another bowl, add heavy cream and whip till soft peaks form. Add the milk chocolate and cream and mix well. Then fold in the pineapple mixture.
* Divide the mixture into six mini jars (use a piping bag for easy pouring), top with pineapple and refrigerate for at least 3 hours or overnight.
* Top with whipped cream, pineapple quarters and mint leaves before serving.
Peach buttermilk cake  
Ingredients
1½ cup — Maida
4 pieces — Peach halves (chopped)
3 pieces — Peach halves, sliced (To garnish)
¾ cup — Fresh cream
1tsp — Baking powder
6tbsp — Softened butter
1 cup — Sugar
1 — Egg
½ cup — Buttermilk
1tsp — Vanilla extract
Salt — To taste
Method
* Preheat oven to 180°C and grease an 8-inch cake pan.
* In a large mixing bowl, whisk the baking powder and set aside.
* Beat butter and one cup of sugar until the mixture is creamy.
* Add and stir in egg, buttermilk, and vanilla extract until combined.
* Gently start adding the dry mix into the wet mix to make a smooth batter.
Pineapple Cake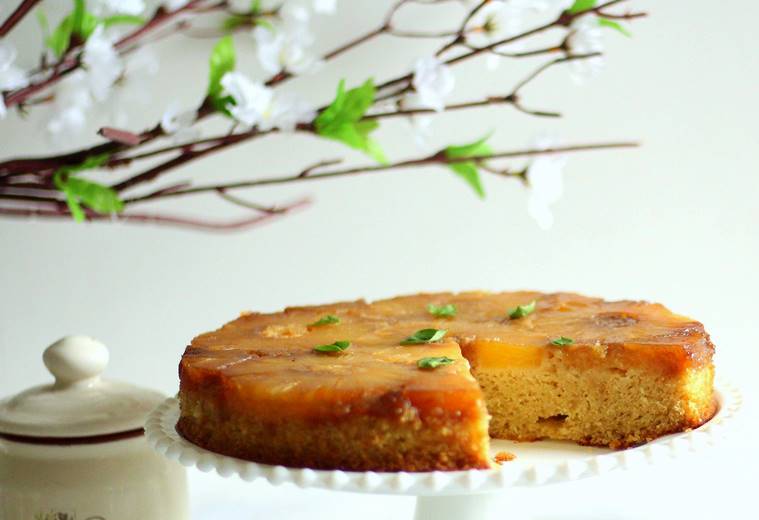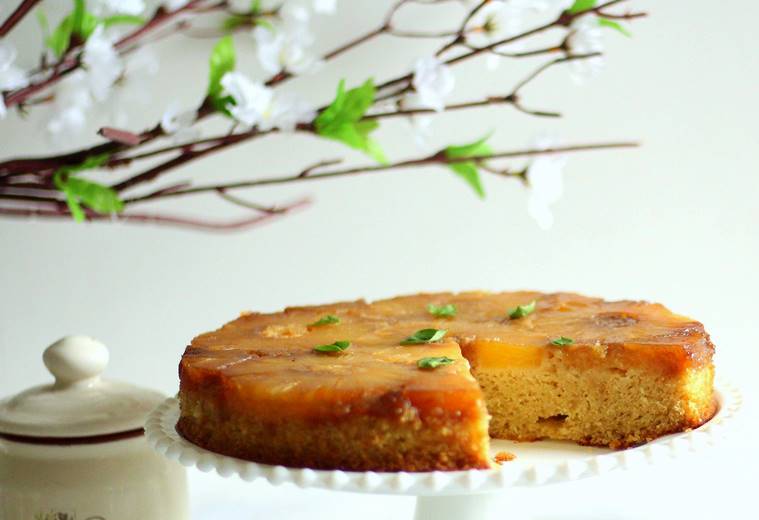 Ingredients
1tsp — Butter
6tbsp — Brown sugar
7 — Pineapple (slices)
2 cups — All purpose flour
4tsp — Baking powder
¾ cup — White granulated sugar
½ cup — Oil
2 — Eggs
¾ cup — Milk
Method 
* Pre-heat your oven to 180°C. Grease the pan with the butter and sprinkle the brown sugar evenly over the base. Arrange the fruits in an even layer on top of the sugar.
* In a medium bowl, whisk flour to bake.
* In a large bowl, using an electric mixer, beat the oil and sugar until it is light and fluffy. With the mixer on low, beat the eggs one at a time.
* Add the flour mixture to the wet ingredients alternating with butter milk, starting and ending with flour mixture. Beat until smooth.
* Carefully pour the batter over the arranged fruit and bake at 180°C for 30-40 minutes until the top is golden-brown.
* Let the cake rest in the tin for 10-15 minutes before taking it out.
Pineapple Cheese Cake
Ingredients
15 — Digestive biscuits
5tbsp — Melted butter
225g — Hung curd
200ml — Heavy cream
1 cup — Pineapple (chopped)
3 drops — Pineapple essence
2½ tbsp — Unflavored gelatin
½ cup — Water
1½ cup — Pineapple (chopped)
¾ cup — Pineapple juice
¼ cup — Sugar
Few strands — Saffron
1tbsp — Corn
Method 
For the base
* To make the base, add digestive biscuits in a blender. Blend it to a crumb.
* Add melted butter, blend it to a pulse once again so that the butter and crumb mix well.
* Put the prepared base into a greased and lined spring form pan of nine inches.
* Press to make a uniform crumb base. Refrigerate for 30 to 45 minutes.
For the compote
* In a pan, add all the ingredients except cornflour.
* Cook the mixture until half of the water dries up.
* Add corn and mix well until it reaches a thick jam consistency. Take it off the heat and cool completely.
For the cheesecake
* Sprinkle gelatin over ¼ cup of water in a bowl. Allow it to bloom.
* In a bowl, whip the cream with sugar until it reaches the stiff peak.
* Now add hung curd and pineapple essence into the whipped cream. Fold it very well.
* Add the bloomed gelatin in a small pan and heat it for a minute to dissolve the gelatin completely. Take it off the heat and slightly cool it.
* Add the gelatin to the curd-cream mixture. Fold it.
* Add pineapple and mix. Pour the prepared cheesecake mixture over the set crumb base.
* Tap gently so that the cheesecake mixture spread evenly. Refrigerate until set.
* Once set, just before serving and top with prepared saffron pineapple compote. Slice and serve chilled.
For all the latest Lifestyle News, download Indian Express App