Written by
Sukanya Nandy
| New Delhi |
Updated: August 22, 2018 7:00:33 am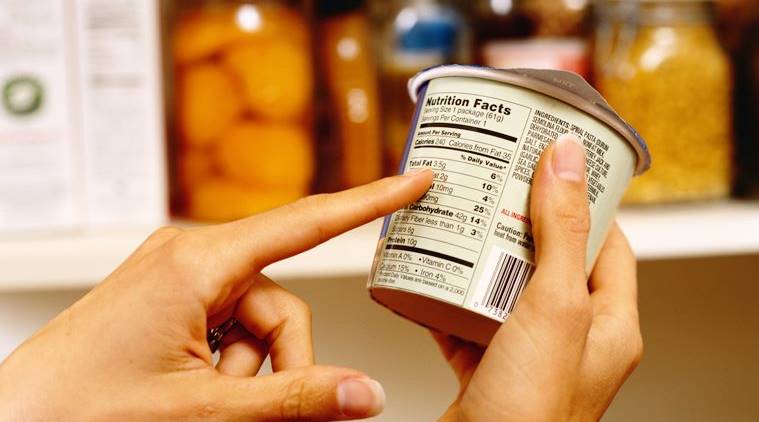 Know why reading a food label is important for your health. (Source: Thinkstock/Getty Images)
When you grab a packaged food product, do you read the label before buying it? Most of you would say 'No'. Usually, the types of nutrients shown in a label include calories, fats, sodium, carbohydrates, fibre, vitamins, proteins and sugars. Knowing how to read a food label will actually help you in selecting the right products and avoiding a lot of health problems.
A beginner's guide to reading food labels:
When buying items from the snacks category like a packet of chips, namkeen or biscuit, one must focus on the serving size as it is reflective of the nutritive value. For instance, the serving size of a packet of biscuit is just one biscuit. "If it's a high calorie or high-fat item, the manufacturers would not clearly mention that", says Dr Priyanka Rohatgi, senior consultant, nutritionist, Apollo Hospital.
She further adds, "When one eats a packet of chips, they end up eating 15-20 chips at a time. But the manufacturers would say serving size is 6 chips, nobody just stops at 6. Since it's a high-calorie item, they calculate it for just 6 chips and show that on the label. So before buying, read the serving size".
The next step is to check where the fat is coming from. For instance, if the product contains animal fat, trans fat or monosaturated fat and the amount present in it. More the amount of fat in a product, the more dangerous it is for your heart. It should have zero trans fat, even an amount of 0.2 trans fat may increase the risk of heart diseases.
Another important factor to be considered is the amount of sugar present in the product. If the content of sugar is more than 20 percent, then that's a high amount and not good for one's health, says Dr Rajeswari Shetty, head, dietetics, SL Raheja Hospital, Fortis. For example, if a packaged fruit juice has five grams of sugar written on its label, it's a good product but if it has 18 grams of sugar, avoid the product.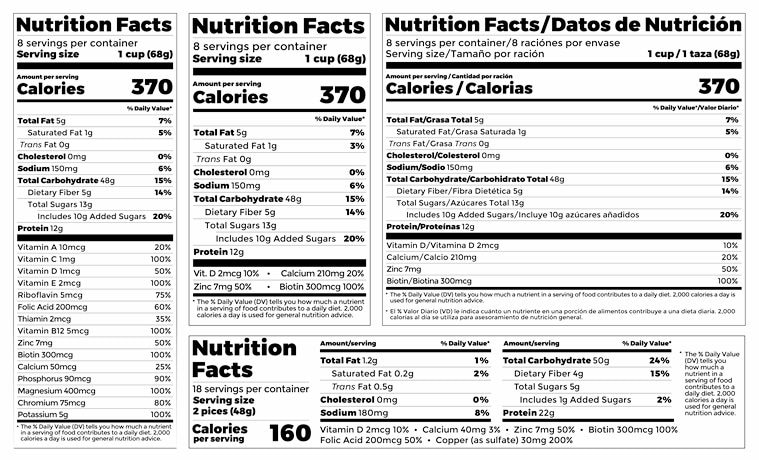 A nutrition panel; this image is for representation purpose only. (Source: Thinkstock/Getty Images)
When it comes to understanding how many calories are there in the food, each item should not give you more than 150 calories per serving. If you end up eating a full bowl of chips, it amounts to almost 500-600 calories, which is equivalent to a full meal.
"A manufacturer reduce the serving size. So for 20 gms of namkeen, 127 kilocalories may be written on the label. So a smart customer should see how much is the serving size and how much he/she is eating," says Rohatgi.
Added benefits like vitamins, fibre, calcium and iron, even if the quantity is less, make the quality of the product better.
Excess salt in food
Most of the packaged items are very high on salt, which is very harmful to the kidneys. Anything preserved, frozen will contain high salt as sodium is added for preservation. One should look at the quantity of sodium present in a product, especially if it is to be served to a cardiac patient, overweight people or children because higher the amount of sodium, higher the risk of blood pressure.
Are ice creams safe?
Rohatgi says, "When buying ice cream for children, parents should take extra care that it contains milk and not fat in the form of vegetable oil and sugar. For example, on the ice cream packet, it may be written emulsified vegetable fat, sugar and milk powder, which is not good for the health of the child".
Comparing the nutrient labels of two similar products with equal serving size but of different brands can help the customer in choosing the right product, adds Dr Shetty. That way they will know which one is better.
For all the latest Lifestyle News, download Indian Express App